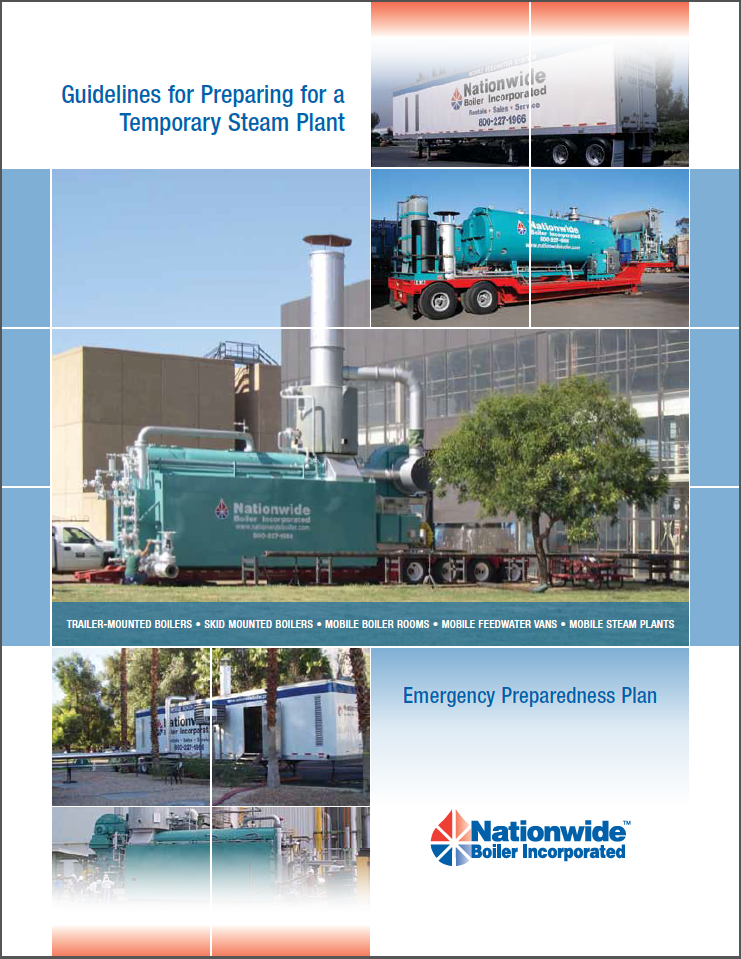 Nationwide Boiler takes pride in meeting the emergency needs of boiler users. We devote a great deal of attention to ensure our users get the rental boiler equipment they need as quickly as possible to avoid any downtime and help customers watch that ever-important bottom line.
It is not uncommon for us to receive calls to supply rental boilers with only a few hours notice. Our organizational structure and operating procedures are in place to respond to these requirements efficiently and in the most cost-effective manner. Nationwide Boiler sales engineers are on call 24 hours a day, 7 days a week, ready to respond to our customers' needs.
In order to help our customers be better prepared in case of a boiler outage, we offer our "Guidelines for Preparing for a Temporary Steam Boiler Plant". Contents include: boiler requirements; boiler size and weight; basic equipment supplied with the rental boiler; fuels; power requirements; piping sizes; instruments air; weather protection; local codes; piping diagram, and a rental boiler specifications sheet. This is an important planning tool every plant manager should have on site!
Contact Nationwide Boiler today for a site visit to discuss your contingency planning needs.

// MODIFICATION. REMOVES HOME-PAGE-ONLY CONTENT ON PAGES THAT ARE not IN NAVIGATION MENU ?>