With emission limits continuing on a downward trend, the Nationwide Boiler CataStak™ SCR System is the choice for ultra low NOx emissions compliance. After years of field testing on numerous rental projects, selective catalytic reduction was recognized as the one solution that met all of Nationwide Boiler's objectives: It was economical, reliable, easy-to-operate, efficient and reduced emissions to single digit NOx levels. Complete our

CataStak Quote Request Form today for a free budget estimate.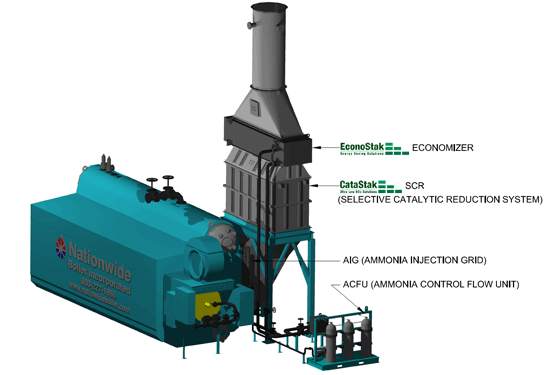 The enormous success of the company's development of modular SCR systems on Nationwide Boiler's rental fleet suggested to company management that a market existed for a field-retrofit system for package boilers. Thus the CataStak™ SCR System was born. Today, Nationwide Boiler leads the nation with the most low NOx solutions for less than 5 pm NOx and the CataStak™ has become the standard for compliance assurance, reliability and product quality. The CataStak™ has successfully been applied to package watertube boilers, firetube boilers, gas-turbine applications, gas-fired heaters, and nitric acid applications. An ammonia-free SCR option is also available for plant owners and operators who desire an ammonia-free alternative.
The CataStak SCR System: Watertube Boiler Project Spotlights
| | | | |
| --- | --- | --- | --- |
| | CataStak SCR System for a 177,000 lb/hr boiler for a major refinery in OK. | | CataStak SCR System for a 70,000 lb/hr boiler for a major salt processing plant in CA. |
| | CataStak SCR System for a 140,000 lb/hr boiler for a fruit processing plant in CA. | | CataStak SCR System for a 200,000 lb/hr boiler for a chemical processing plant in TX. |
System Overview
The CataStak™ SCR system can be installed either vertically or horizontally and has been installed in boiler applications ranging from 800 HP to over 200,000 PPH. It consists of a single-reactor housing with NOx or CO reducing catalyst and a standard ammonia delivery system (pure anhydrous ammonia, aqueous ammonia or urea). Nationwide Boiler's NOx reduction control system for the precise control flow of ammonia and an ammonia injection grid is also included. Ammonia can also be supplied by a vaporizer unit.
Catalyst Features
Nationwide Boiler offers either honeycomb or pelletized catalyst, based on the specific application and equipment type. The unique design of the catalyst provides high NOx or CO removal activity, low pressure drop, low SO2 oxidation rate and excellent durability. The catalyst features are key to:
High NOx or CO removal level with minimum ammonia slip
Low activity towards SO2 oxidation, minimizing the risk of fouling downstream equipment
High poison resistance ensuring a long and stable service life
Ammonia Delivery System
Nationwide's standard ammonia delivery system consists of the anhydrous ammonia storage, Nationwide Boiler's NOx reduction control system with a mass ammonia control valve and the ammonia injection grid.Anhydrous ammonia is typically stored in standard 150 lb. gas cylinders that connect to a manifold which accommodates up to three cylinders, allowing each cylinder to be isolated and switched over on-line. Anhydrous ammonia gas cylinders are the most cost-effective and practical storage method for most systems, however alternate delivery systems can also be supplied.
Ammonia Control Flow Unit
Ammonia flow control components are skid mounted in a compact space-saving arrangement where all operating devices are within close proximity of each other and within easy access for the operator. The NOx reduction control system includes a vapor ammonia header with a pressure regulator, and a "smart" flow control valve. A dilution air blower is also provided. The flow rate of the ammonia is controlled based on the fuel flow measurements and pre-determined NOx emissions.
Ammonia Injection Grid
The Ammonia Injection Grid (AIG) consists of a header feeding a group of injection lances distributed across the flue gas duct. The AIG provides uniform injection of the ammonia/air mixture over the duct cross section.
The CataStak™ SCR System is designed as a cost-effective answer to reducing stack emissions and has been proven in many types of demanding applications, easily meeting or exceeded NOx emission guarantees. It is designed for stand-alone operation with minimum operator intervention. benefits include:
Lower GHG - dramatic reduction in stack emissions
Easy field retrofit - no burner or fan changes required
Simple controls - minimum operator intervention
Low operating costs with stand-alone operation
The CataStak SCR System Timeline - Decades of Innovation
1990's - Nationwide Boiler selected selective catalytic reduction (SCR) technology as the answer to NOx compliance. SCR technology was the most economical, efficient, reliable and easy to operate solution, capable of easily exceeding 9 ppm NOx limits to as low as 5 ppm.

October 1999 - Nationwide Boiler was the first rental boiler company to conduct a SCR field demonstration on a packaged watertube boiler, later to be branded and trademarked as the CataStak™ SCR System.
1999 - Nationwide Boiler offers the CataStak™ SCR system on their rental watertube boilers.
2004 - Nationwide Boiler expands the product offering of the CataStak™ SCR system to include boiler retrofits and new boiler installations to meet sub-9 ppm NOx levels."
2008 - Nationwide Boiler expands its role as the low NOx solutions provider with the introduction of the company's new business unit, Nationwide Environmental Systems (NES). NES is formed to address and supply industry wide needs for complete Green House Gas plant solutions through innovative, low NOx air pollution control solutions for package boilers, gas turbines, heaters, steam generators, and nitric acid applications.
2010 - Nationwide supplies more SCR system retrofits/installations to the industry than any other supplier in the industry.

2011 - Nationwide Boiler, along with Combustion Components Associates Inc., develops the Ammonia-Free CataStak™ SCR system for firetube boilers, utilizing the Combustion Components Associates Inc. patented TRIM-NOX™ urea injection system. This safe, low NOx SCR solution provides >90% NOx reduction and eliminates the need for boiler operators to store or handle ammonia.
2012 - The Ammonia-Free CataStak™ is expanded to operate with packaged watertube boilers.
Today - The Nationwide Boiler supplied CataStak™ SCR systems lead the industry with the best track record in terms of performance and reliability, exceeding current local, regional or national emission regulations and requirements.