Today's shift in the country's energy mix and ever-changing environmental regulations are influencing operational decision makers regarding replacing or refueling boiler systems that are currently firing liquid or solid fuels. The EPA Industrial Boiler MACT, in particular, is largely focused on coal-fired boiler units. Owners of these boiler systems face tough economic decisions that will change the way their boiler rooms operate today and in the future.
Nationwide Boiler, the rental boiler industry leader for nearly fifty years, is your One Source Supplier for fuel conversion projects. Whether you need a temporary rental boiler to keep operations running or a new or reconditioned boiler with the latest emissions and efficiency upgrades to replace obsolete equipment, Nationwide Boiler can do it all.
The Choice to Replace
When replacing a boiler, major considerations must be made regarding rental equipment required to keep operations running. Nationwide Boiler's fleet of rental systems include complete mobile boiler rooms, trailer-mounted boilers up to 120,000 lbs/hr, skid-mounted boilers up to 250,000 lbs/hr, feed water systems, and Selective Catalytic Reduction Systems (SCR) for NOx compliance of 5 ppm. Since boiler conversion projects can vary from six months to up to a year, rental boilers can dramatically minimize downtime and interruptions to production from a loss of steam supply.
In addition to rental boilers, Nationwide Boiler stocks a large inventory of new and reconditioned firetube and watertube boilers with the latest NOx controls and efficiency upgrades. Units are often available for immediate delivery and can be shipped anywhere in the world. As a major stocking distributor for Babcock & Wilcox (B&W), Nationwide Boiler specializes in the supply of the versatile Babcock & Wilcox Model FM 120-124 package boiler. With over 4,400 units in operation worldwide, this boiler supplies 200,000 lbs/hr of 750F superheated steam and is 750 psig design.
Call Nationwide Boiler today to discuss your unique project requirement and ask how Nationwide Boiler "Can do it all," 1-800-227-1966.
Project Spotlight - Duke University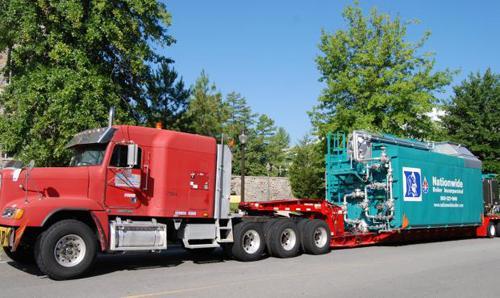 Built in 1929, Duke University's West Campus steam plant in Durham, NC, produced as much as 1.3 billion pounds of steam a year. The plant was fueled by a black mountain of 4,000 to 6,000 tons of reserve coal, off the University's famous Coal Pile Drive. On April 12, 2011, Duke burned the last of its remaining stock coal and began renovations to convert the plant from a coal burning plant to a natural gas burning plant (similar to its sister plant on the East side of campus). This is all part of Duke's Climate Action Plan and the University's goal to become carbon neutral by 2024.

A local engineering firm working with Duke on the project contacted Nationwide Boiler to provide an 82,500 lb/hr trailer-mounted boiler rental with an economizer to supplement steam as a result of the plant retrofit. Nationwide Boiler Sales Engineer, Tim McBride, took the lead on the job and supplied the University with a 2010 Nebraska low NOx mobile boiler to meet the steam requirements. It was readily available for immediate shipment from Nationwide Boiler's Southeast storage yard located in Bessemer, AL (ADCO Companies Ltd.).

As in all rental jobs, the boiler was thoroughly inspected, tested and checked before it was shipped to the customer. However, one additional item made this boiler rental unique - the mounting of Duke University's famous Blue Devil logo placed on each side of the boiler, proudly promoting Duke as it traveled its way through the "Golden Triangle", comprising of Raleigh (North Carolina State), Durham (Duke University), and Chapel Hill (University of North Carolina).

The trailer-mounted rental boiler was delivered (without incidence from opposing college fans), made its way up Coal Pile Drive and was installed in the original, now obsolete, coal off-loading building. A Nationwide Boiler Field Service Engineer performed boiler start-up and operator training to ensure proper performance and maintenance of the equipment.

Moving out of the coal era is a significant accomplishment for Duke University. Not only does it involve replacing coal-fired boilers with new boilers that burn clean natural gas, but it also includes historical preservation of the original brick structure of the plant. More importantly, it paves the way for other colleges and universities who are focused on being "green" and want to do their part in helping the environment.

Tavey McDaniel Capps, Director of Sustainable Duke, said, "Being proactive in our sustainable efforts will make a big difference in the future." Nationwide Boiler is proud that it too can also play a small part in making a big difference for our environment and for future generations at Duke University.

// MODIFICATION. REMOVES HOME-PAGE-ONLY CONTENT ON PAGES THAT ARE not IN NAVIGATION MENU ?>