Boiler Blog | Nationwide Boiler Inc.
Nationwide Boiler news and events, industry updates, technical resources and more. You hear it first on The Nationwide Boiler Blog!
1 minute reading time
(225 words)
Quality Reconditioned Boilers From Nationwide Boiler Available for Immediate Delivery
When time is of the essence and you need a reliable boiler right away, look no further than Nationwide Boiler. With manufacturer's lead times ranging between 12-24 weeks, Nationwide Boiler can provide a new or reconditioned boiler immediately and typically at 60% of the cost of a new boiler. We stock a variety of boilers, each unit carrying the same guarantee as a new unit and warranted for 6-12 months (contact Nationwide Boiler for specific terms and conditions).
Nationwide regularly updates our New and Used Equipment Inventory List online with the most up to date equipment details and photos.Once a boiler is selected, prospective buyers can visit Nationwide's facility in Fremont, CA for a visual inspection of the unit. We assure that every boiler is ASME code certified and meets or exceeds the current industry standards for emissions and controls. In addition all units are internally inspected and hydrostatically tested, with all systems checked prior to final delivery. If you are looking for a new or quality reconditioned boiler system, contact Nationwide Boiler today or visit our website to view our latest equipment offerings.
If you don't see what you are looking for, we are happy to assist you find a solution that best suits your specific needs.
This month's equipment spotlight: 700 hp Low NOx Skid-mounted Boiler (3 in stock for immediate delivery)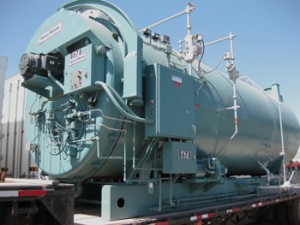 Comment for this post has been locked by admin.

// MODIFICATION. REMOVES HOME-PAGE-ONLY CONTENT ON PAGES THAT ARE not IN NAVIGATION MENU ?>