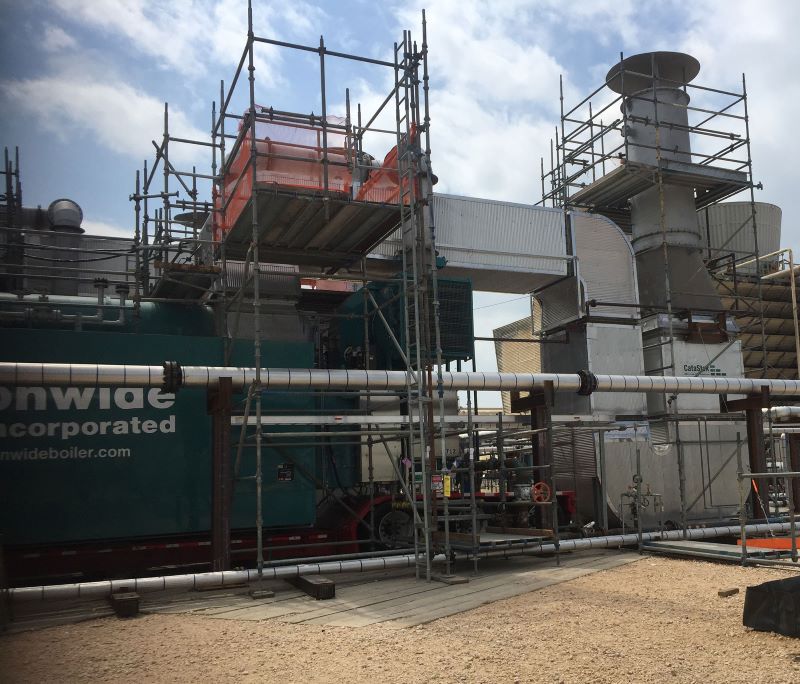 Based on Nationwide's proven CataStak™ SCR system technology, the urea-based CataStak SCR system has been economically designed to provide reliable NOx performance for firetube and watertube boilers using a safe 32.5% urea solution. Utilizing direct injection of urea, this safe, low NOx SCR solution provides greater than 90% NOx reduction and eliminates the need for boiler operators to store or handle ammonia, while ensuring reliable operation of your boiler system.
The urea flow control skid consists of a control panel with PCL touch screen HMI and air-atomizing injectors. A day tank can be supplied for storage, or standard urea totes can be utilized. The innovative design and features of this pre-packaged system assures minimum ammonia slip, maximum NOx reduction and easy installation and setup, while providing a safe alternative for ammonia based SCR systems.
Quick Facts About Urea (DEF)


Mixture of high purity, synthetic, automotive grade urea and deionized water
Non-hazardous, non-flammable, non-toxic, and non-explosive
Classified as minimum risk
Safe when it comes in contact with skin
Most diesel-powered on-road vehicles produced since 2010 utilize SCR technology and DEF
Safe alternative to ammonia
View our product bulletin for additional details about the urea-based CataStak SCR System. 
---

Urea, Anhydrous & Aqueous Ammonia Options
While the urea-based CataStak™ is available as a safer alternative to ammonia, customers who already have ammonia handling protocols in place may opt for aqueous or anhydrous ammonia as the NOx reducing agent.
Nationwide Boiler's engineering team can design the CataStak for use with the reagent of your choice. Reference the table below to learn the difference between the three different reagent options. 
---
 Vertical or Horizontal Flow Configurations for a Seamless Fit
Our engineers excel in the design and specification of CataStak SCR systems for a wide variety of fired equipment applications. They assess the location, space, and application specifics to craft tailored solutions that seamlessly integrate with your unique operation, consistently surpassing performance guarantees each and every time. With more than 200 CataStak SCR system installations across the country, you can trust Nationwide Boiler to design a package that will provide you with emissions compliance without compromise.