Nationwide Boiler is the exclusive California representative for Vapor Power's Electrode boiler line, a high efficiency, high quality electric steam boiler that offers a zero emissions solution.
Using electricity as a clean, efficient, and easily controlled fuel, all the energy input to the boiler is converted to steam with 99% efficiency. Vapor Power's electrode generator output is controllable from 0 – 100%; turndown is not compromised and there are no efficiency losses at low output conditions.
The Electrode generator is locally managed by a PLC-based system that controls every aspect of the boiler including control of water level, pressure, KW limit, and all safety devices. Interface to the PLC by an operator is accomplished through a HMI device that communicates directly with the boiler PLC. Remote data acquisition and control is available via ModBus, Ethernet, Bacnet, or other communication protocol.
The simplicity of the controls and engineered boiler design results in significantly reduced maintenance. Heat transfer takes place directly in the water in the steam chamber, thus producing high quality steam of 99.95% purity throughout the operating range.
Advantages of Electrode Boilers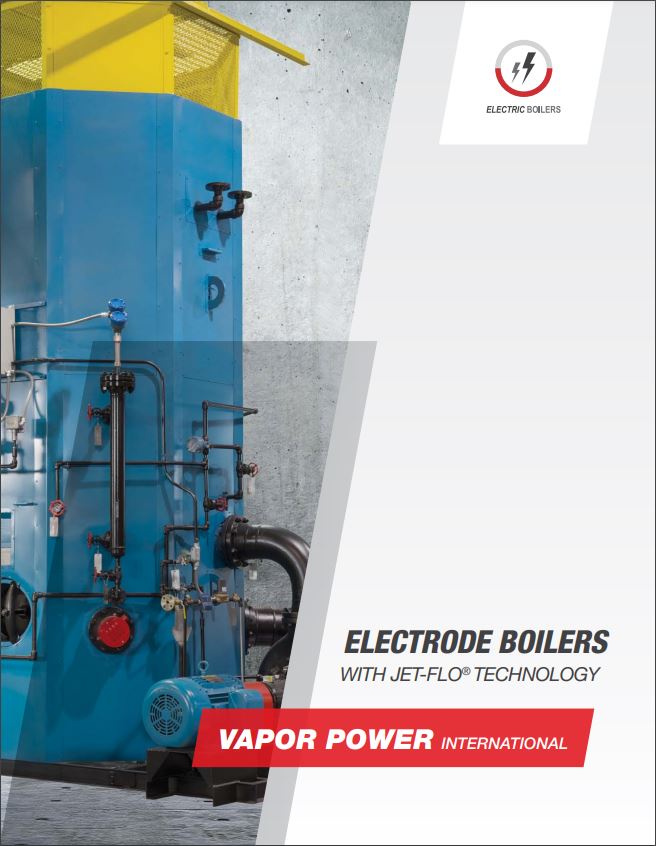 High efficiency – greater than 99%
High turndown – safely operate as low as 1% of output
No moving parts eliminates downtime due to packing leaks around the hydraulically-operated shield positioning system
No risk of failure of internal mechanical shields
No hydraulic system required
No dielectric barriers are needed
No special water treatment
Industrial Grade components
Steam from: 3000 kW to 34,000 kW
(10,000 to 113,000 PPH)
Pressure from: 100 – 500 PSIG
Voltages from: 4160 – 14,400 Volts
Hot Water Boilers with similar capacities are also available.
Contact us today for a quick quote
or to discuss your application requirements.