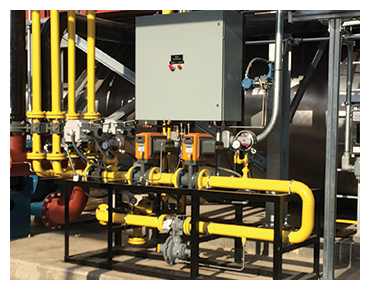 At Nationwide Control Solutions, we've mastered the art of designing, specifying, and supplying process skids that set the standard in our industry.  Precision, reliability, and efficiency stand as paramount pillars and we've not only mastered these aspects but have also set the standard for NFPA-compliant process skids. 
Our process skids are expertly crafted to ensure the reliable and efficient supply of fuel to boilers and process equipment. With our solutions, you'll experience streamlined operations, minimal downtime, and maximum performance. But that's not all. We also build process skids that play a pivotal role in supplying urea, anhydrous ammonia, and aqueous ammonia to our CataStak™ SCR systems. This ensures that your emissions control is second to none with reliable and smooth urea or ammonia supply to the system.
 
Why Choose Nationwide Control Solutions?


Precision Engineering: Our process skids are a testament to precision engineering. Every component is meticulously designed and built for flawless performance.

Reliability Guaranteed: We understand that reliability is paramount. Our skids are built to endure, ensuring consistent, dependable operation.

Customized Solutions: No two operations are the same, and neither are our skids. We customize each solution to your unique needs, guaranteeing a perfect fit.

Environmental Responsibility: With our SCR system support, you're not just meeting regulations; you're leading the way in environmental responsibility.

Unparalleled Expertise: With years of experience, our team is your trusted partner in process skids, ensuring you get the most from your investment.