Package Watertube Boilers
Nationwide Boiler's package watertube boilers feature Superior Boiler, Babcock & Wilcox, and Cleaver-Brooks boilers in a range of sizes. When long lead times aren't an option, you can count on our large inventory of new and reconditioned boilers, often available for quick ship needs. This includes our 100,000 lb/hr, 399 psig design saturated steam Superior DFW watertube boilers, and our "World Boiler" - a B&W 200,000 lb/hr superheat steam skid-mounted package boiler. Nationwide Boilers are available for rental, lease-to-own and for outright purchase.
The table below showcases typical arrangements for our fleet of package boilers, however additional sizes and configurations are available upon request. Balance of plant equipment, such as a deaerator, water softener, blowdown heat recovery, and CataStak SCR system can also be added. Additional critical options are available, including but not limited to:
Mud Drums
SIL 2 or 3 Control Panel
Steam Flow Transmitter & Recorder
Heating Coil
Safety Valve Vent Stacks & Silencers
Oxygen Analyzer
Platforms & Ladders
Three Element Feedwater Control
Natural Gas Regulator

Nationwide Boiler is the exclusive and authorized representative for Superior Boiler in California, Nevada, Oregon and Washington, and we are also the Superior Package Watertube Boiler representative for the entire state of Texas. In addition, we offer Superior's innovative
DFW Boiler exclusively for an option that provides the same capacity as a standard boiler, but in a smaller footprint!
Benefits and Advantages of the DFW Boiler Design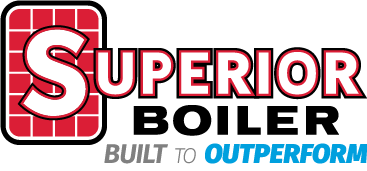 Decreased footprint with the same capacity, when compared to current designs
Smaller fan horespower requirements to reduce operating costs
Reduced emissions due to a lower thermal NOx
Competitive pricing when compared to other options
click the links in the table for details, and contact us today for a quote!
1-800-227-1966
| | | | | |
| --- | --- | --- | --- | --- |
| Capacity | Type | Design Pressure | Temperature | Manufacturer |
| 200,000 lb/hr | D | 750 psig / 750F | Superheat | B&W |
| 150,000 lb/hr | D | 500 psig | Saturated | B&W |
| 125,000 lb/hr | O | 750 psig | Saturated | B&W |
| 110,000 lb/hr | O | 750 psig / 750F | Superheat | B&W |
| 100,000 lb/hr | O - DFW | 399 psig | Saturated | Superior |
| 85,000 lb/hr | O - DFW | 750 psig / 750F | Superheat | Superior |
| 82,500 lb/hr | O | 399 and 350 psig | Saturated | Superior / B&W |
| 75,000 lb/hr | O | 750 psig / 750F | Superheat | B&W |
| 75,000 lb/hr | O | 750 psig | Saturated | B&W |
| 70,000 lb/hr | O | 300 and 400 psig | Saturated | C-B |
| 50,000 lb/hr | O - DFW | 650 psig | Saturated | Superior |
// MODIFICATION. REMOVES HOME-PAGE-ONLY CONTENT ON PAGES THAT ARE not IN NAVIGATION MENU ?>