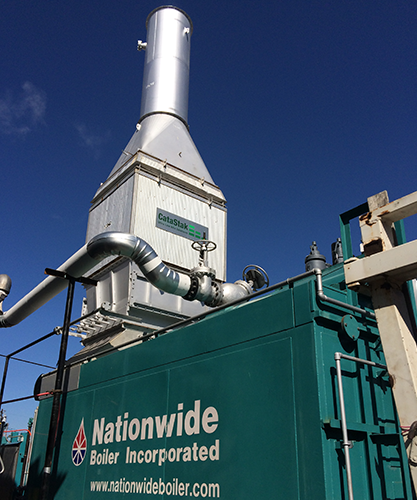 When it comes to NOx emissions reduction, the CataStak™ SCR system isn't just an innovation; it's a revolution. Originally tested on a multitude of watertube boilers within Nationwide Boiler's rental fleet, this groundbreaking system has indisputably demonstrated its capability of reducing NOx emissions to levels as low as 2.5 ppm. But the CataStak is more than just an emissions reduction solution. It's a catalyst for enhanced operational efficiency, offering superior turndown capabilities compared to ultra-low NOx burners. It's versatility knows no bounds, providing a dynamic solution for a variety of applications.

The CataStak™ is most often utilized with the boilers in our rental fleet, however, on a case-by-case basis Nationwide Boiler can offer a CataStak SCR System for independent rental use.

View our product bulletins below for additional details: 

---

Flexibility Redefined: Retrofit with Ease
One of the CataStak's key strengths is its adaptability. It can seamlessly retrofit into any existing system, whether in a vertical or horizontal configuration. Plus, it offers flexibility in choosing the NOx reducing agent (reagent) that best suits your needs, with options including anhydrous ammonia, aqueous ammonia, or urea.
Proven in Over 200 Applications
Today, the CataStak SCR system has earned its stripes in over 200 temporary and permanent applications. Plus, it can be designed for use with an array of fired equipment including package boilers, fired heaters, gas turbines, and more.
Ready for Every Challenge
Nationwide Boiler maintains a robust fleet of CataStak SCR systems, designed to accommodate various boiler sizes and configurations. This readiness ensures that, no matter the challenge, the CataStak is ready to step in and deliver exceptional results. With the CataStak SCR system, emissions reduction isn't just a goal; it's a guarantee.

Join the revolution and allow Nationwide Boiler to help you accomplish "Emissions Compliance, Without Compromise".