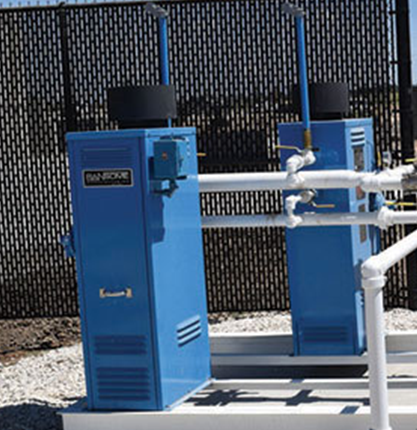 For customers that need a propane fired rental boiler solution, Nationwide Boiler sets the standard by offering a comprehensive propane-fired option. Our commitment to versatility and reliability extends to every facet of your operation, including fuel supply. That's why we proudly provide vaporizers designed to seamlessly facilitate the delivery of propane fuel to our rental boilers.



Propane Excellence Unleashed
Our propane vaporizers are geared for use with fleet of package firetube rental boilers, mobile boiler rooms, and mobile steam plants up to 650 HP. Whether you require a short-term solution or a long-term boost to your propane-fired operations, our vaporizers stand as a testament to Nationwide Boiler's commitment to excellence.
Unrivaled Versatility
Versatility is the cornerstone of our approach. We understand that every operation is unique, and our vaporizers reflect this understanding. They are adaptable, catering to a spectrum of applications and seamlessly integrating into various rental boiler setups.



View the specifications below for additional details.
360 gal/hr Propane Vaporizer