Nationwide Boiler's large fleet of rental boilers includes multiple 70,000 lb/hr, 300-400 psig trailer-mounted package watertube boilers. These saturated steam rental boilers are mounted to a highway-legal trailer for true rental boiler mobility and if no additional auxiliary equipment is required, the complete package can ship in just one freight delivery. The trailer is uniquely configured with a gooseneck and running gear that is removeable for a space-saving option when needed. 
The complete trailer-mounted rental boiler package includes the following: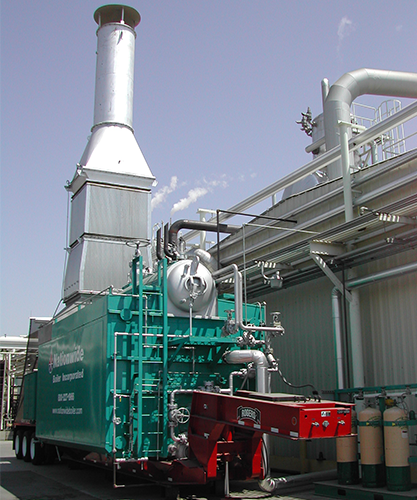 Package Watertube Boiler
Low NOx Burner
PLC-Based Combustion Control Panel
Forced Draft Fan, Motor & Starter
Complete Fuel Train & Pilot Ignition System
Water Column & Site Glass
Steam Pressure Gauge
Low-water Cutoffs
Safety Valves (loose)
Pre-piped Feedwater Stop & Check Valves
Pre-piped Blowdown Valves
Continuous Blowdown Metering Valve
Chemical Feed Valve
Steam Non-Return Valve (loose)
Stack (loose)
NEMA 4 Electrical Enclosures
Plus! As an option, we can offer our CataStak™ SCR system for 2.5 ppm ultra-low NOx emissions compliance.  
|   |   |
| --- | --- |
| Steam Capacity | 70,000 lb/hr |
| Steam Temperature | Saturated |
| Design Pressure | 300 or 400 psi |
| Operating Range | 100 - 375 psi |
| Standard Fuel Type | Natural Gas (#2 Oil / Hydrogen-Blend Options) |
| NOx Emissions (natural gas) | 30 ppm (2.5 ppm Option) |
| Boiler Type | Watertube |
Download the full rental boiler specification for additional details.