Boiler Blog | Nationwide Boiler Inc.
Nationwide Boiler news and events, industry updates, technical resources and more. You hear it first on The Nationwide Boiler Blog!
The Nationwide Boiler Steamlines with a Brand New Look!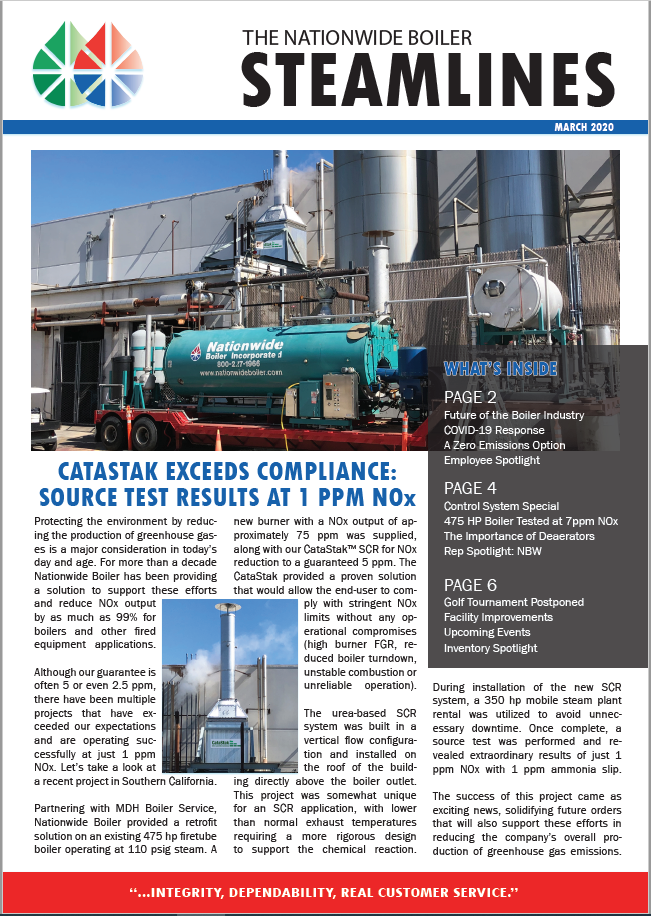 Our quarterly newsletter, The Nationwide Boiler Steamlines, is hot off the press! Our first edition of the year is available now with a brand new look.
Read the newsletter
to learn about what's currently happening at Nationwide Boiler, including a successful CataStak SCR system project, our response to the COVID-19 pandemic,  a new electric boiler for our rental fleet, a reminder on the importance of deaerators, and more. See our upcoming events and inventory spotlight, too.
We also officially announced the postponement of our Annual Charity Golf Tournament to 2021 to ensure the health and safety of all involved during this uncertain time. The tournament will be held at Pebble Beach on May 5-6, 2021 and we will resume with the celebration of our 40th Anniversary with the "Back to the 80's Theme".