Boiler Blog | Nationwide Boiler Inc.
Nationwide Boiler news and events, industry updates, technical resources and more. You hear it first on The Nationwide Boiler Blog!
1 minute reading time
(168 words)
Ultra Low NOx Mobile Boiler Rooms Added to Expanding Rental Fleet
Three new ultra low NOx (ULN) mobile boiler rooms have been added to Nationwide Boiler Inc's growing fleet of rental boiler systems. The boilers have been specifically designed, manufactured and assembled to meet the increasing demand of steam for commercial and industrial boiler users located in California and other parts of the nation who must comply with strict air emission requirements. All three units have been pre-certified to comply with permitting agencies including the South Coast Air Quality Management District (SCAQMD) and the Bay Area Air Quality Management District (BAAQMD).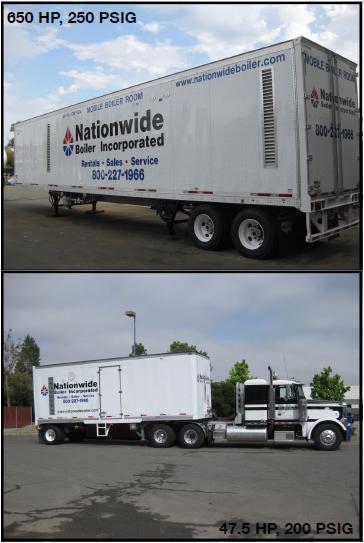 The three new units include a pair of 47.5 hp (200 psig) ULN boilers enclosed in 27' single axle vans and one 650 hp (250 psig) ULN boiler enclosed in a 53' van. All boilers include 9 ppm gas-fired burners (with the option to fire propane fuel), deaerators, feedwater pumps, chemical treatment systems, blowdown separators and sample cooler stations.

For more information about these boiler systems and other units in our rental fleet, visit our website at www.nationwideboiler.com.

Comment for this post has been locked by admin.

// MODIFICATION. REMOVES HOME-PAGE-ONLY CONTENT ON PAGES THAT ARE not IN NAVIGATION MENU ?>