For over fifty years Nationwide Boiler has provided reliable, quality rental boiler solutions to customers throughout California. With headquarters in the San Francisco Bay Area, a sales and service office in the Central Valley, and remote personnel out of Southern California and the Sacramento area, Nationwide Boiler is well-positioned to support your temporary rental boiler and equipment needs. Our fleet of over 100 rental boilers and related equipment includes mobile boiler rooms and CataStak SCR systems that are pre-permitted for use in the South Coast Air Quality Management District. This provides a quick solution and ease of permitting for customers located in a region with the most stringent emissions requirements.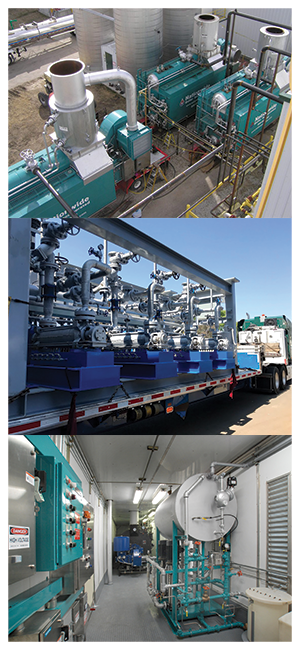 Check out our complete listing of rental services below, and contact us today for additional details, pricing, or to set up a no-cost, site-specific evaluation for your facility's contingency planning needs.
- Trailer-Mounted Watertube Boilers from 30,000 lb/hr to 125,000 lb/hr
- Skid-Mounted Boilers, including firetube and watertube boilers in various sizes
- Complete Mobile Steam Plants consisting of firetube boilers from 47.5 hp to 1,000 hp
- Mobile Feedwater Vans for use with boilers up to 165,000 lb/hr
- Trailer-Mounted Feedwater Systems for use with boilers up to 70,000 lb/hr
- Skid-Mounted Deaerators, low and high-pressure systems for up to 225,000 lb/hr
- CataStak™ SCR Systems for ultra-low NOx emissions
- DataStak™ Emissions & Efficiency Monitoring Systems
- EconoStak Economizers for added fuel efficiency
- Water Softeners for pre-treating & softening the feedwater
- Blowdown Heat Recovery Systems for energy savings
- Steam-to-Water Heat Exchangers for hot water applications
- Propane Vaporizers up to 350 gal/hr
- Gas Pressure Regulators for reducing incoming gas pressure
- Fuel Oil Skids for #2 oil supply
We also maintain a fleet of SCAQMD pre-permitted boilers, and we can provide information and assistance around Air Permitting for Rental Boilers in any region throughout the state.